Reality Check: 'Charm School' beats Tyler Perry's 'House of Payne' and 'Roots'
(BlackPressMagazine.com) - Tyler Perry's first television show 'House of Payne' has already been picked up through syndication, and 'Roots: The Next Generations' ws celebrated its 30th anniversary, but it hardly matters.
VH1's popular reality TV show, "Charm School" beat out Perry and Roots to snag the number most watched show for Black households in the U.S., according to trend tracking company Nielsen Media Research.
Charm School, which stars Heather "Krazy" Crawford, Shay "Buckeey" Johnson, Larissa "Bootz" Hodge Aurora, winner Saaphyri Windsor and host Mo'Nique Imes, breezed past Perry with 3.6 million viewers watching the Charm School Reunion. Its marathon over the fourth of July. Charm School earned a 15.0 rating and was seen by 1.4 million Black households compared to 1.2 million for Perry.
To hear other Charm School/Flavor or Love podcast interviews with Deelishis, Larissa, Schatar, Leiline, Saaphyri and Shay, visit http://www.blackpressradio.com and search keyword: VH1 or Charm School. To hear Deelishis' new single click on the "Anniversary Party Mix" showcasing unsigned artists. Stay tuned for photos from the L.A. event today at 5 p.m. EST/2 p.m. PST.
---
Back Talk: Tell us what you think! If we use your comment, you will win a BlackPressRadio.com baby-tee or wife beater. Email [email protected].
---
Coming Soon: I Love New York's Oinx is doing what?!!!!! Exclusive interview on BlackPressRadio
Related Topics:
See pics from the Charm School Reunion Party
Charm School's Thela "Rain" Brown stars on BET's "Hell Date"
I Love New York's Tango and Mr. Boston get their own show. Hear about it on BlackPressRadio.com
Michael Lewellen: Why I left BET
BET co-founder Dr. Sheila Johnson says, "I'm finished with BET"
---
Judges, Sponsors and Panelists wanted for Hip Hop Journalism Summit and Black Press All Star Awards
Black Press will conduct pre-, during and post-event podcast interviews, write articles on the Hip Hop Journalism Summit and Black Press All Star Awards event that will be held on Sept. 14-15, 2007 and help promote the event as part of the media sponsorship commitment. The 3rd annual Hip Hop Journalism Summit and Black Press All Star Awards is currently accepting application for individuals who want to be apart of the panels, sponsorship list or judging selection committee to help determine the winners among the submissions comprised of newspapers, magazines, websites, publicists, authors and others in the Black media industry. To be considered, send your bio, weblink and photo to [email protected] by July 31, 2007.
---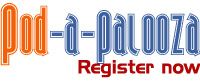 Volunteers and interns are needed for Podapalooza: Podcasting Workshops to be held on Sept. 14-15, 2007 in Washington, DC. To be considered send your resume, cover letter, work samples, web links and goals to [email protected]